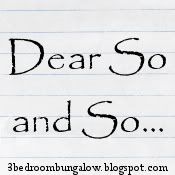 So I ran across this idea through a series of blogs and I thought, "Oh! How neat!" I'm going to try it out and see how I like it. And lucky you, you get two posts today. You are welcome. Click on the button to check out
Kat's blog
and participate!
Dear Media,
I really,
really
do not care about Tiger Woods and his...extracurricular activities. Please stop shoving the story down my throat. Thanks!
Ready to hear about something that is for-real important,
Amanda
********
Dear Air Force assignment list timeline,
You really suck. I would very much like to know before MAY where we will be moving our family of six in JULY or AUGUST. Seriously?! I'm not sure if I'll have any hair left by the time notifications start rolling in.
Desperately wanting to know our assignment fate,
Amanda
********
Dear Strep Throat,
Please leave my family alone or get us all out of the way at once. Preferably the former.
Weary of quarantining children,
Sam & Jake's mom
********
Dear Jason,
Having you home for the last week was so extraordinarily lovely, even if we were all feeling a little under the weather. I wish that you did not have to go back to work. We are going to miss you terribly next week. I love you.
Your very biggest fan,
Mandi