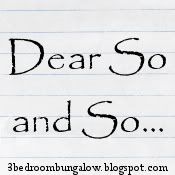 I liked last week's experience enough to repeat it! Here we go!
Dear Neighbor Kid,
Please do not stand at the gate line of our property and stare in through our windows. It is creepy and I don't like it. While we're at it, perhaps you and your friends could stop throwing things at our vehicles as we have repeatedly asked you to do? The neighbor relationship between your house and ours is already tenuous enough; let's not add to it, m'kay?
Pretty sure I'm not living in a fishbowl regardless of what you might think,
The Mean Neighborhood Mom
-------
Dear Hobby Lobby,
Thank you, thank you, thank you for shipping overseas to APO/FPO addresses! I wish I had known before now that you do so! We are moving soon so it doesn't help us much, but the families over here can use all the alternate shopping options they can get.
Sincerely meaning that you rock,
Amanda
-------
Dear children who live in my house,
I love you all. You are the stars in my night sky. But I swear that if you don't quit fighting I am going to duct tape you all to the ceiling. Seriously.
Smooches,
Momma
-------
Dear Spring,
Where are you?! I know last year I said that I really wish you would go away so that my dear husband's allergies would calm down but I did not mean for you to be gone for so long! I would now really like for the children to be able to play outside for hours at a time. Please come back. I will never take you for granted again.
(Until sometime in May.)
Quietly calculating the amount of duct tape I need,
Amanda